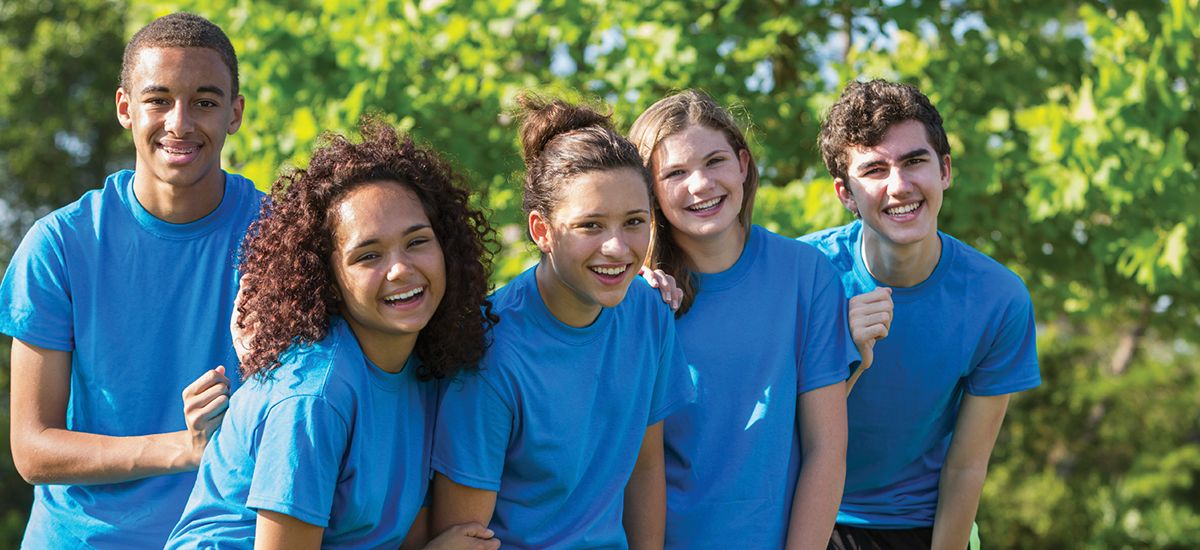 Camp New Journey is an incredible new summer camp located in the San Bernardino mountains just north of Los Angeles California that serves churches and youth groups all across the southern California area. As great as it is, we couldn't do it without an amazing camp staff – College / High school students who choose to spend weeks of their summers to serve. But who says service can't be fun? We hike, swim, and play games (among other things), all while hanging out with kids who God can impact through YOU! If you want to spend your summer doing something meaningful and fun, apply now!
General Counselors
The General Counselors spend all day working with their campers and participating in the activities with them. In order to be a General Counselor, you must have compassion, great listening skills and the ability to relate to kids. We look for applicants who have experience working with children and who want to have a positive impact in our campers' lives.
Camp Lifeguard
You will serve as an advocate for the safety and well being of our campers and guests, and you will ensure that the pool is safe, welcoming environments for all to play, learn and build confidence in the water. Your responsibilities will include ensuring the safety of participants while they are in or near the pool, general maintenance and cleanliness of the pool, chemical testing and general problem solving. May include supervisory role for campers while at the lake.
Required Certifications: American Red Cross Life-guarding/First Aid/CPR/AED
Camp Director
We are looking for an energetic seasonal Camp Director to oversee all camp operations at our summer camp. This position will manage the day to day operation of the summer camp program. Provide leadership, supervision, coordination, and organization for Camp New Journey's summer camp program and its staff. Flexibility in schedule will be needed for success in this position. Applicant must live on site during camp weeks.  If you are looking for a position where you can make a positive difference helping children discover their passion and you have excellent leadership skills along with experience working with children? Apply today!
Support Service Staff
Support Service Staff work behind the scenes to ensure camp is running smoothly, working in food service, housekeeping, laundry, maintenance, security, health center or the office. A Support Service Staff member lives in a bunk with a group of other Support Service Staff.
Health Center
Will provide first aid care for campers and staff, overseeing the administration of medications.
Food Service
Will actively participate in all aspects of food service at Camp: set up, prep, serving and clean up.
Maintenance/Security
Basic carpentry, electrical, automotive and landscaping skills. The ability to make repairs & learn on the job is essential.
Housekeeping
Keeps the public buildings and bathrooms clean.  All camp towels and sheets are laundered by Housekeeping. Refreshes cabins at end of each session.
WHEN AND WHERE IS THE JOURNEY CAMP?
CNJ is located near Mountain High Ski Resort in the San Bernadino Mountains. Staff Training begins on the Friday before Week 1. Your summer commitment is complete at the conclusion of Week 5, following breakdown. If you hope to work with us, please plan to be a part of ALL staff training. Please do NOT apply and ask for an exception, because it is important to attend training. All staff are off for the holiday week of July 4, but should plan to report back to camp on Sunday afternoon following the 4th of July if your scheduled.
DO I NEED TO BE AT CAMP THE ENTIRE SUMMER?
Of course…are you joking?! You will only need to be at camp for the weeks you are scheduled.  Everyone will have time off so you don't spend the entire summer at camp.
WHEN CAN I TURN IN MY APPLICATION?
Applications can be submitted anytime between November 2 and March 1.
CAN I PICK THE ACTIVITIES WHERE I WOULD LIKE TO SERVE?
We will do our best to accommodate your requests but please be flexible and prepared to run various activities. We realize that there are non-athletes out there. Some of our campers lack athleticism too. We want you operating where you are most comfortable and gifted, but you will also be stretched a little this summer.
WHEN WILL I FIND OUT ABOUT THE JOB?
Within 2 weeks of your interview at the earliest – March 15 at the latest.
CAN I BRING MY OWN VEHICLE IF I WANT TO?
Yes. But driving your vehicle on or off campus during a camp week without specific direction or permission from a Camp Director is prohibited.
WHAT ARE THE HOUSING ARRANGEMENTS FOR THE SUMMER? WHERE DO WE STAY?
You will live in a cabin with other staff members of the same sex.  All or our housing is dormitory style with the vast majority of beds being bunk-beds. You, as a staff member, are responsible for bringing appropriate bedding for the summer.
WHAT EXPENSES WILL I HAVE DURING THE SUMMER?
While at camp, you do not have to pay for room and board. You may want money for the camp store, Wal-Mart runs, supplemental money for meals on long weekends. Overall, the summer provides a great opportunity for you to save money because expenses are few.
IS THERE AN AGE REQUIREMENT FOR WORKING STAFF?
Yes. You must be 16 years old to qualify as a CIT and have completed our leadership training. Counselors should should have completed one year of college or more by the summer.
WILL I BE INTERVIEWED FOR THE POSITION?
All new staff will have a phone / Zoom interview. A face-to-face interview is preferred. Interviews could be scheduled as early as mid-January.
HOW MUCH DO THE JOURNEY CAMP SUMMER EMPLOYEES MAKE?
Salaries ranges are depended upon the position and your experience in youth/camp ministry.
HOW DO I SCHEDULE ARRIVING AND DEPARTING FOR THE SUMMER?
The Journey Camp Director will coordinate with you based on your travel needs. You are responsible to get to camp, even if that means Uber/Lift.
WHAT IF I NEED TO LEAVE FOR AN EVENT (WEDDING, EMERGENCY, ETC)?
Every effort should be made to avoid any absence during your scheduled time at the camp. Concerning weddings, exceptions will be considered if the dates occur on a weekend, and you present the details well ahead of time (during your interview).
CAN MY FRIENDS AND FAMILY COME VISIT ME DURING THE SUMMER?
Unfortunately there is not space available for guest while you are scheduled to work at camp. Because of the dormitory style living arrangements we have to be considerate of all that you are sharing your living space with.